Blog
Posted on
House of Troy stocks some of the biggest formal dress labels including Portia & Scarlett and Alamour the Label. Over the past few months we have been tracking the most popular bridesmaid design trends and we want to share our findings with you to help you pick the perfect dress design for your girls.
Every months we are seeing more and more amazing evening dresses that are also trending as bridesmaid dresses. Brides don't want the norm anymore. Each bride is different and she wants her day to be perfect and for her ladies in waiting to look their best -because this is YOUR day!
1. Off the shoulder
The Spanish style off the shoulder designs are very in fashion in the moment. Off the shoulder looks great in tops and in dresses. They also complement most figures. Many labels are bringing out formal off the shoulder dresses now and customers are loving it. Draping shoulders or a straight cut, there are many options.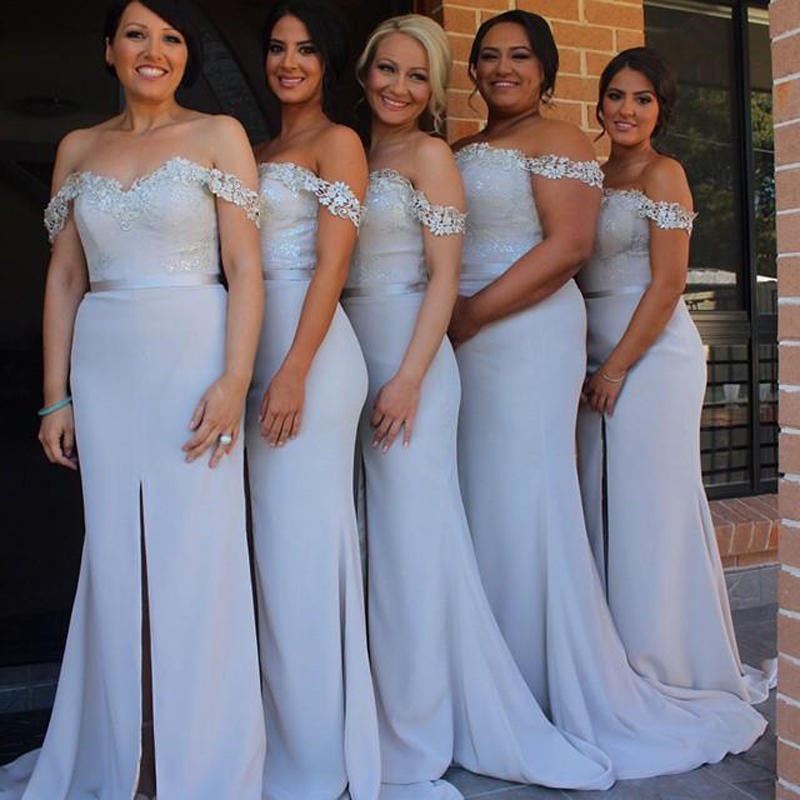 2. Short dresses
Short bridesmaid dresses definitely make the bride stand out more. They come in different lengths and can be either hugging or loose. Most people think of short dresses as being informal but we have seen some very elegant short dresses. Alamour the label has some fabulous short dresses.
3. Casual designs
We are seeing more and more casual weddings. Like beach weddings, farm wedding and boat weddings. Usually the bride wants something informal to go with her theme so that people feel comfortable. Brides are allowing their bridesmaids to choose their own dresses and designs. This can look quite pretty.
4. Mix and match colors
Allowing each bridesmaid to choose her own color adds a certain flare to the wedding and the photos. Sometimes the bride chooses a rainbow or a gradient of colors. This can look quite elegant and fun. This is usually better for a day time wedding. Portia & Scarlett always provides a range of colors for their dresses.

Every girl needs a House of Troy bandage dress. With over 100 styles on our website we have a design to suit every body shape. Every one of our bandage dress designs is unique and every design requires different lingerie to suit. So if you want to stand out and make heads turn, then choose the right lingerie to [...]
FORMAL FEVER has hit House of Troy! School is out and formal season is upon us and we have been lucky enough to help style some of Sydney's most beautiful girls this year.So what's trending now in formal dresses? Well according to some of Sydney's most recent year 12 graduates, its all about fitted, floor length gowns... a sexy yet sophisticated [...]
As the winter season approaches it's time to start stocking your closet with this season's hottest styles. Whether you want to add a pop of colour to a bland winter wardrobe, or spice up your look with a daring neckline, House of Troy is here to help!Australia's largest bandage dress label has styles to compliment your body type and [...]
So, you have a special event coming up and you're looking for the perfect dress? Here at House of Troy we have some exquisite bandage dresses for you to choose from that can be dressed up or down depending on the occasion.A longer cut dress doesn't mean you have to feel like you're covering everything up, in fact, we [...]
The little black dress; a classic closet staple as famous as Audrey Hepburn herself, who created the trend and helped women everywhere get in touch with their inner sophistication.If you're looking for a bandage dress in this chic colour, House of Troy has you covered! Check out these five LBD's which will bring out your most confident self (but you've [...]
We all know that a little black dress is a classic closet staple, but what about the little white dress? White is the colour of sophistication, so here are five white bandage dresses from House of Troy to update your closet with—we all need a fresh break from those little black ones!AMNESIA BANDAGE DRESSWe're not kidding when we say that [...]
If you're planning on purchasing a bandage dress this fall (and you should!), then check out our selection of hand picked dresses you shouldn't be without.Pantone, the authority figure on trending colours, reports this year's fall hues take inspiration from neutral, earthy androgynous colours, with hints of deep florals. So we have compiled a list of bandage dresses in these [...]
Who is your absolute celebrity idol? Is it Kim Kardashian, Blake Lively, Katy Perry or maybe the Victoria Secret models? If you answered yes to any of these then odds are you would love to emulate their style! You may not have the curves of Kim Kardashian or the legs of a Victoria's Secret model but you can still achieve [...]
Think bandage outfits can't get sexier? Introduce a two piece bandage outfit into your wardrobe and your look will be transformed. Two piece bandage outfits can flaunt your figure in a completely new way. These looks often involve a bralette or crop top and a fitted skirt in continuous or matching colours and patterns; most styles also show off the midriff, [...]