HOW TO CHOOSE A PRINTED BANDAGE DRESS
Bandage dresses already have an exciting appeal of their own, however if there is anything that can better these beloved closet staples, it's a fabulous print.
The sleek, figure-hugging silhouette unique to bandage dresses is the perfect canvas for a range of patterns.
Here we feature five printed dresses from our House of Troy online bandage dress collection. We take into consideration every woman's taste and style with prints ranging from the vintage baroque to sharp geometrical shapes.
Here we recommend some of our most popular print bandage dresses to make your online shopping experience run that much smoother.

BAROQ BANDAGE DRESS
If you are loving romantic chic styles then our printed Baroq Bandage Dress will suit you best. The mix of hot pink, black, and white is an effective combination, perfect for the indulgent print of Baroq.
The pattern itself is heavy and intense—very complementary to the dress's simple spaghetti straps and sweetheart neckline style. Pull on a pair of black ankle-strap heels for a put-together look, or a pair of white wedges for something more sophisticated.

TROPEZ BANDAGE DRESS
For a refreshing look, spring green is always your best choice. Our Tropez Bandage Dress features a tropical print that features neatly over the bodice giving it that mirror-image appeal.
The contrast between bright green and amethyst purple is eye-catching and anything but vapid.
The sweetheart neckline and bustier front of the Tropez Bandage Dress is flattering for many feminine frames, but especially for those needing a bit of a boost in that area.
Because of its tropical print, reminiscent of Givenchy's 2012 Resort Collection, it is better to pair this bandage dress with shoes in either light neutral colors (white or nude) or colors from the dress's print, especially fuchsia.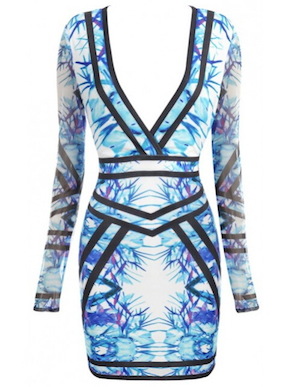 AQUA BANDAGE DRESS
The aquatic shade of blue against an immaculate white hue is an elegant combination we can never have enough of. It helps that white is a classic neutral, and blue is a balanced color—not too loud, but not too dull. This timeless combo incorporates itself into this upbeat, but very classy Aqua Bandage Dress.
It has a wispy liquid print in a mirrored style, but what keeps it from looking understated is the black piping surrounding the dress, creating frames that highlight the best assets of a woman's body. The plunging neckline also offsets the sheer long sleeves, lending the dress some appropriate boldness.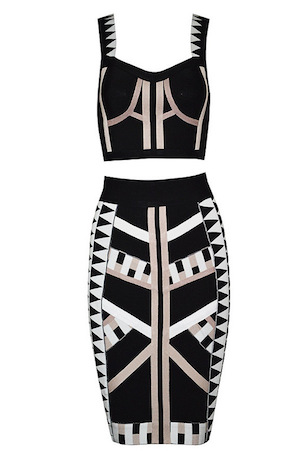 AZTEC BANDAGE TWO PIECE
Take your bandage dress collection to the next level with our edgy Aztec Bandage Two Piece. The color scheme may be monotonous—peach almond, white, and black—but the rigid, geometric patterns lend it a sharp precision no other print can quite achieve.
The two piece style of the Aztec only ups its attitude—it features a corset top and a pencil skirt. If you aren't feeling the rock chic vibes just add some black patent pumps and your ready to go.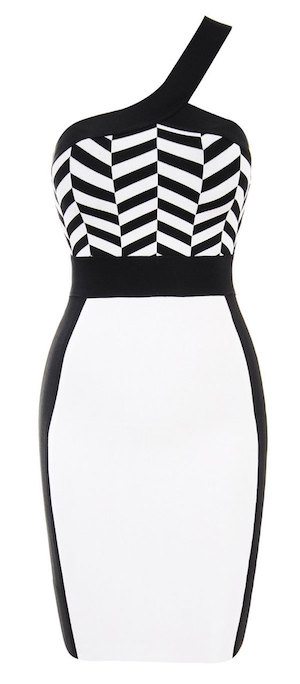 BLANCA BANDAGE DRESS
If you aren't much for heavily patterned dresses but still want to experience the print action, our exquisite black and white Blanca Bandage Dress is perfect for you.
It's minimalistic on the print, but by no means simple: the black and white chevron pattern creates a busy top and the illusion of a well-endowed chest (plus points for girls who need a little more in that department!);.
While the black trimmings, on the other hand, line the sides of the dress and gives it a more voluptuous appearance. Finally, the Blanca Bandage Dress gets an extra oomph from the one-shoulder strap.