HOW TO WEAR A BANDAGE TWO PIECE
Think bandage outfits can't get sexier? Introduce a two piece bandage outfit into your wardrobe and your look will be transformed. Two piece bandage outfits can flaunt your figure in a completely new way.
These looks often involve a bralette or crop top and a fitted skirt in continuous or matching colours and patterns; most styles also show off the midriff, and are no doubt more fun to wear.
If you're creative enough, you might as well mix and match the pieces with other tops and bottoms.
Here we have compiled a list of our favourite two piece bandage outfits from House of Troy to give you a head start.

BLANC BANDAGE TWO PIECE
The Blanc Bandage Two Piece is a bestseller at House of Troy, and it's easy to see why: this two piece comes in a charcoal grey hue flattering for nearly every skin colour, and has an almost skeletal design.
The patterns keep it from looking anything but plain. The best part of the two piece, however, is the cut-out corset top, which bares enough skin to keep things exciting (and breezy!).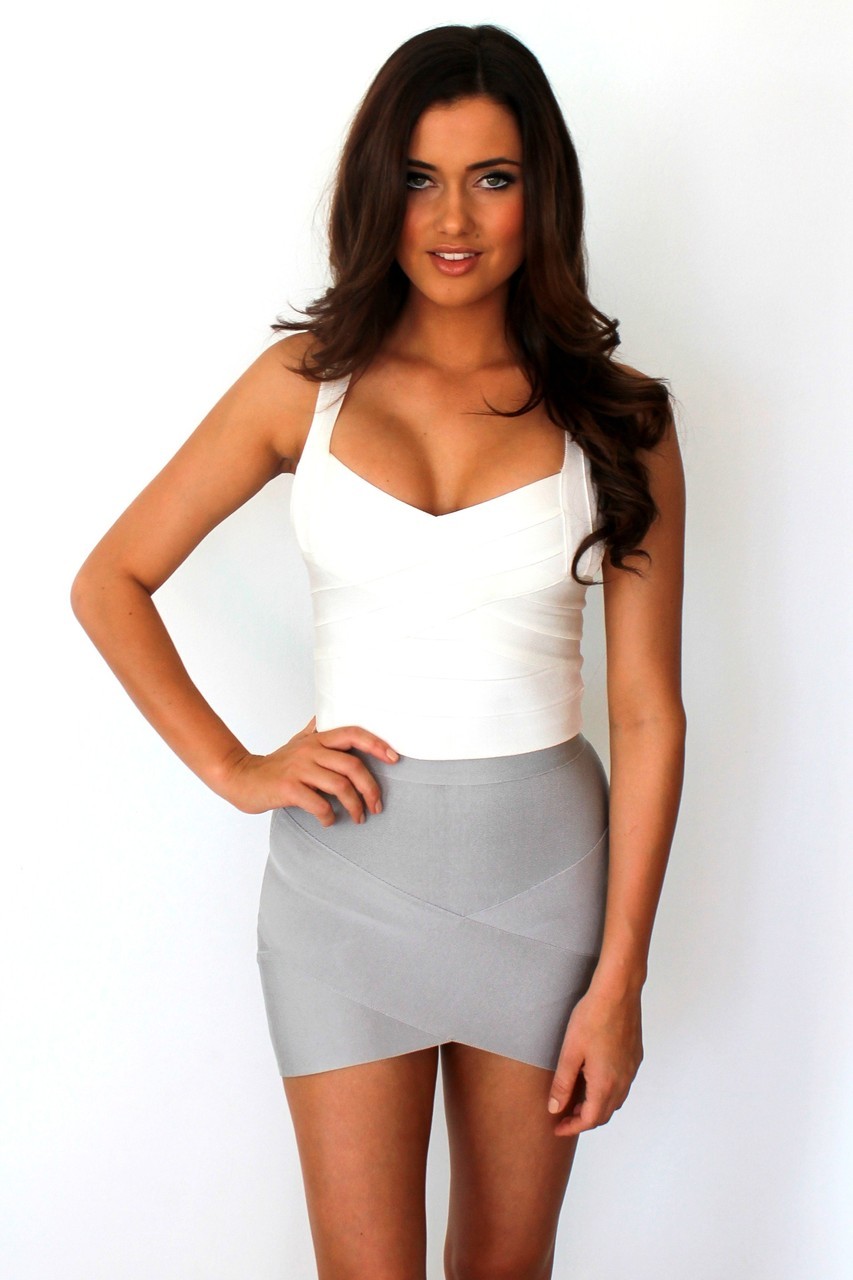 ELECTRIK BANDAGE TWO PIECE
The Electrik Bandage Two Piece from House of Troy is popular for a reason, and put simply, has a timeless design. It's textured crisscross patterns paired with basic solid colours make it versatile enough to wear with other add-ons, like a leather jacket for an edgy look, or a blazer for something more sophisticated.
This is the perfect canvas for accessories that pop too, like bejewelled earrings or printed pumps. House of Troy has this outfit available in several colour combinations, some of which are grey, white, black, and red.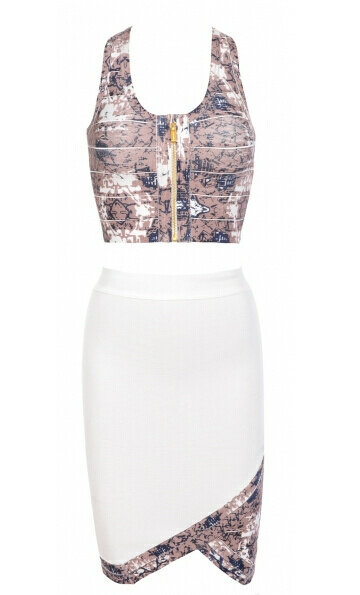 DAHLIA BANDAGE TWO PIECE
A few things we love about our unique Dahlia Bandage Two Piece are the graphic cracked print, the angular asymmetric hem of the skirt, and the gold zipped up top. This stand out outfit is anything but bland, while the earthy colour palette gives it that distinctive look.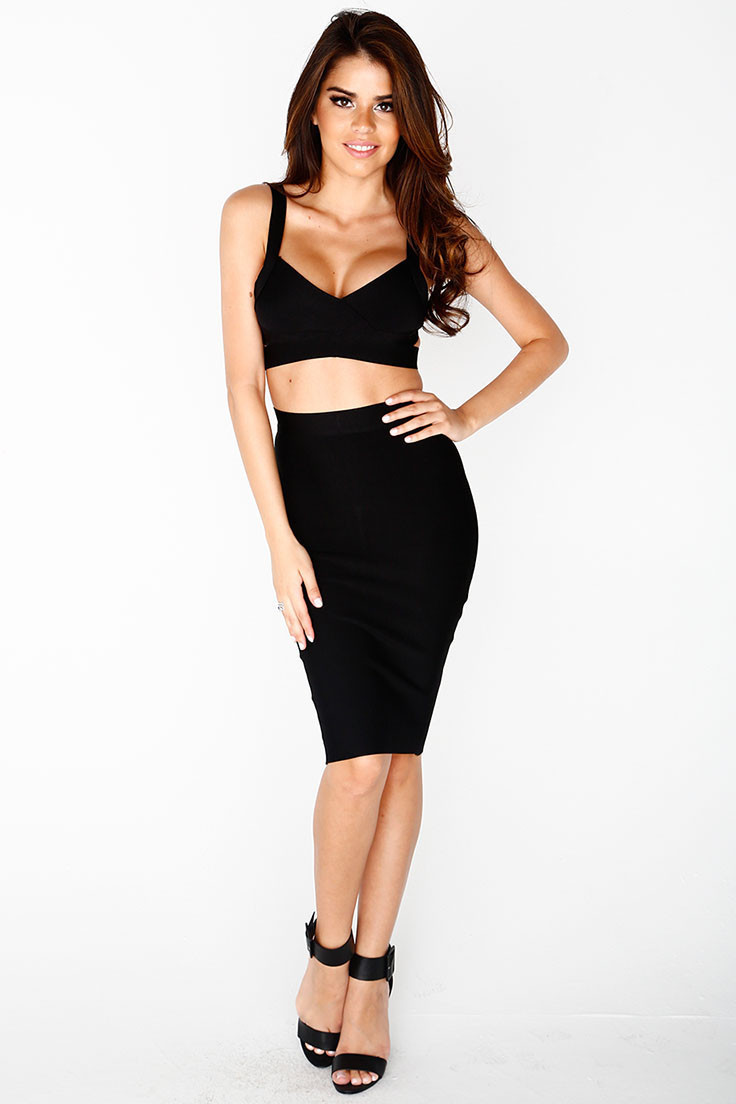 HAVANA BANDAGE TWO PIECE
Fall in love with the classic and understated nature of the Havana Bandage Two Piece. Our favourite features of this outfit include the dipped neckline of the cropped top as well as the knee length style of the pencil skirt. It has an urban feel to it, but the neat silhouette gives it a cosmopolitan appeal.

CREME BANDAGE TWO PIECE
Cream may be a dainty colour, but what makes this dress a rock star is the leatherette fabric and gold studs. The studs create a geometric pattern—notice how the patterns are different to avoid monotony in design—and the leatherette gives it a little more edge. The top is a crop corset style with spaghetti straps and a sweetheart neckline.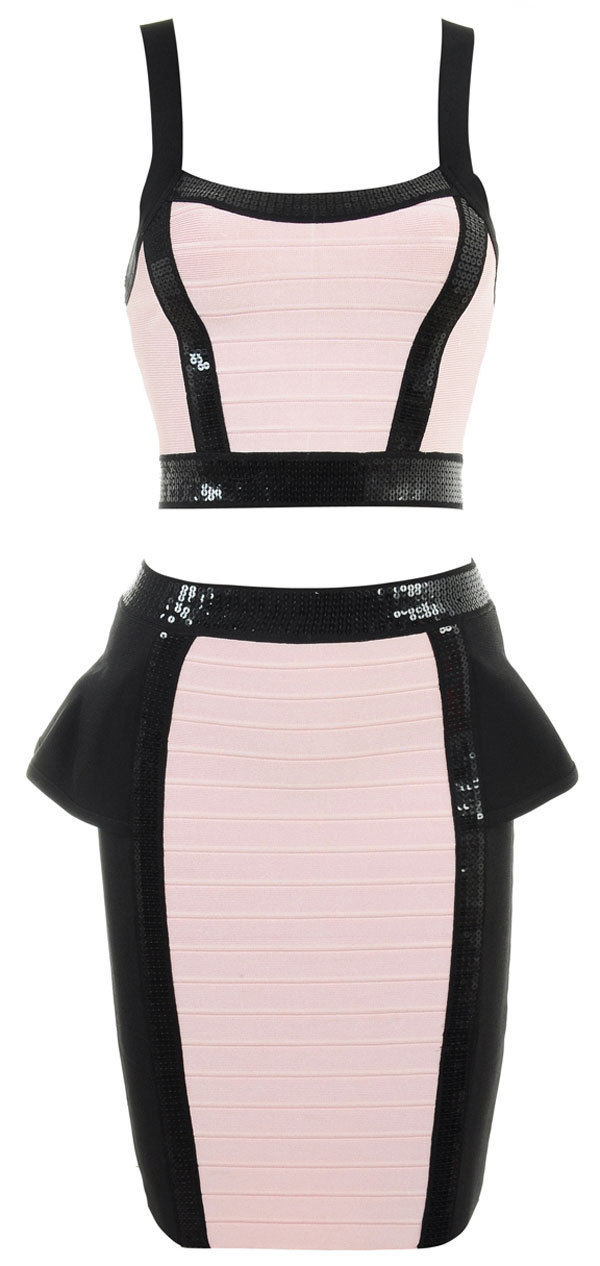 MISHKA BANDAGE TWO PIECE
Our pretty Mishka Bandage Two Piece is the perfect fit for the in-betweeners—the one's who love to dress up as that good girl vs bad girl. Pink and black is a colour palette that always works great for these gals, and this two piece is further upgraded with its sequined detail and peplum cut. Take her out for lunch or a night out on the town, you pick!

CAMILLA BANDAGE TWO PIECE
For the bold gal who dares to wear the most vibrant hues, our Camilla Bandage Two Piece is most appropriate. The crop top has a sexy crisscross cutout, and the pencil skirt has a streamlined, body-hugging style.
Colour blocking is a trend that comes in every now and then, and if you've learned your colour wheel (or eye the colours like a natural—good on you), then you know that hot pink and red orange are complimentary.
These colours are also perfect for the bright seasons, so if you're looking for an escape from the riot of florals, this bandage two piece is your best look.